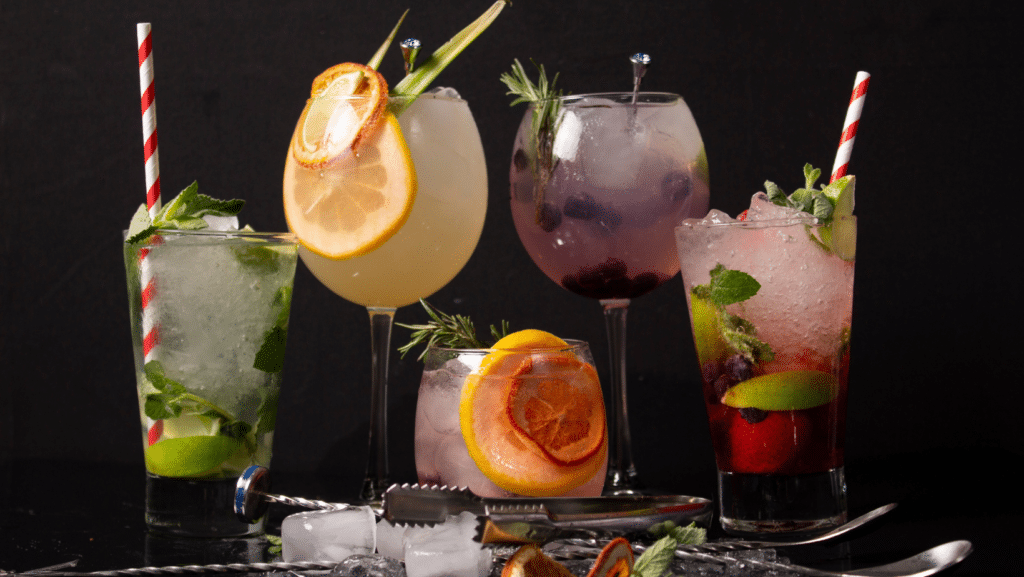 The term "Cocktail" made its first appearance on March 17th, 1798 in the London Gazetteer. It wasn't until May 13, 1806 that a newspaper called the Balance and Columbian Repository, described the term "cocktail" as "a stimulating liquor, composed of spirits of any kind, sugar, water and bitters." 
Where did the term come from? Well, the tales are many and my favorite is the one about Besty Flanagan. A barmaid in the 1770's, Betsy Flanagan would prepare and serve drinks to french soldiers adorned with brightly colored feathers from a rooster's tail also known as a cock's tail.
Originally inspired by British punches served in big bowls, cocktails have evolved through the ages. There seems to be a most popular cocktail for every decade. Looking closer, you'll see that the history of invention is sometimes dark, funny or even controversial. Let's explore! 
Early 1900's- The Old Fashioned

, said to be named by people ordering a drink done "the old fashioned way."
1920's- The Martini

, originally a disgusting mix of mostly vermouth, gin, bitters and a maraschino cherry for garnish. With conflicting origin stories, the Martini took a journey through prohibition and many years of war to evolve into the much loved cocktail that we know today. 
1930's- Hemingway Daiquiri

, created by

Constantino Ribalaigua,

"The Cocktail King of Cuba,"  at

 

El Floridita

in Havana, which was Earnest Hemmingway's favorite bar. FYI, it still exists to this day.
1940's- Manhattan

, although the Manhattan Club in New York City maintains ownership of this recipe, its exact origin is difficult to pin down. Quite a few Big Apple hotspots claim to be inventors of the popular drink.
1950's- Bloody Mary

, a cocktail by many names, once known as the "The Red Snapper," created by

Ferdinand "Pete" Petiot and possibly named after Queen Mary Tudor's violent reign.
1960's- Pina Colada,

translates to "Strained Pineapple" and was born in Puerto Rico at the Beachcomber bar in the 40's. 
1970's- Harvey Wallbanger

, hilariously named

for a surfer, Tom Harvey. Whom after drinking a few too many, became so drunk that he started walking into walls.
1980's- Long Island Iced Tea

, created in the 1970's as a part of a cocktail crafting contest, the Long Island Iced Tea is the youngest cocktail on our list and it also has the longest list of ingredients. Vodka, rum, gin, tequila, triple sec, simple syrup, lemon juice topped with cola.
1990's- Cosmopolitan

, first called the "Gimlet" created before WWII, it slowly evolved to the Cosmopolitan later into the 70's and of course was made undeniably famous inthe 90's by Carrie Bradshaw in Sex in The City.
Since the early 2000's many of these cocktails, and creative variations on the classic recipes, have made their way back onto bar menus everywhere. So have fun, get creative and try something new! Order up a cocktail next time you're out or have a cocktail party at home. 
This summer my favorite patio drink is a Paloma. Tequila, grapefruit juice, simple syrup or agave nectar and lime juice on ice. It's what I'll be mixing up and enjoying with friends and family (responsibly), on hot summer days!
List of Cocktails courtesy of Vogue.com "Cocktails Through The Ages. For recipes, click the link: https://www.vogue.com.au/vogue-living/entertaining/cocktails-through-the-ages-the-most-popular-cocktails-from-1900-to-now-and-how-to-make-them/image-gallery/c0a9ac1727e163caf6518eda04c6b51b