Fire Safety with Hunter: Smoke Detector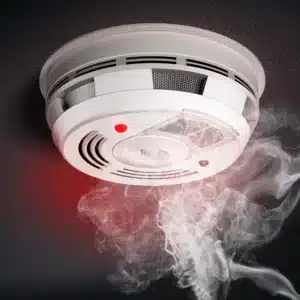 Welcome back to Fire Safety with Hunter! In the last 2 articles we discussed safety in the kitchen and creating a fire escape plan. If you missed it you can find Part 1 here and Part 2 here.
What else can you do in your home to help protect you in the event of a fire? Smoke alarms! 
Smoke alarms (also known as smoke detectors or fire alarms) are not only used to alert your family when you're cooking but they also play an important role in keeping you and those in your home safe. According to National Fire Protection Association "Almost three-fifths of home fire deaths resulted from fires in homes with no smoke alarms or no working smoke alarm"
By law, smoke alarms sold in Canada must comply with the Underwriters Laboratories of Canada (ULC) Standard for Smoke Alarms, CAN/ULC-S531. They are powered by batteries and/or hardwired into your home's electricity. It's recommended that you have a combination of battery and hardwired smoke alarms. 
Where should they be installed?
According to Alberta Health Services it's recommended you have a smoke alarm on every level in your home, including an unfinished basement. They should be in the hallway, in close proximity to bedrooms, at the bottom of stairs and in or close by living spaces such as dens, living and family rooms. 
Mount the smoke alarm high on the ceiling or wall (smoke rises) and ensure there is about 10 cm space between the smoke alarm and walls. 
Do not install smoke alarms in the kitchen, bathrooms or in the garage. As smoke, dust & steam can set off the alarm.
Ensure everyone in your home can hear the smoke alarm, there are accessories you can install such as strobe lights or pillow/bed shakers for those who are hard of hearing or deep sleepers. 
How often should you check your smoke alarm? How do you check your smoke alarm? 
It is important to test your smoke alarm at least once a month, you can do this by pushing the test button on the alarm. This is to ensure the alarm still has power going to it. To test that it will detect smoke, you can blow out a candle and allow the smoke to drift towards the alarm. The alarm should sound within 20 seconds. 
How can you maintain your alarm? 
Change the batteries once a year. 

Replace the smoke alarm every 10 years, or sooner if it's not working. 

Regularly dust your smoke alarms

Keep paint, stickers and decorations away from smoke alarms. 
For more information on smoke alarms, you can check out these websites here:
https://www.edmonton.ca/sites/default/files/public-files/assets/SmokeAlarmSafetySheet.pdf?cb=1664298377
https://www.edmonton.ca/residential_neighbourhoods/fire_safety/smoke-alarms