Fire Safety with Hunter: Safety in the Kitchen
By way of a quick introduction – I'm "Hunter" The LorenzTeam's mascot! I was chosen because, as a wolf, I take my role as a teacher seriously. That's why during the month of October, I would like to share some fire safety tips in honor of fire prevention week, which happens this year on October 9 – 15th.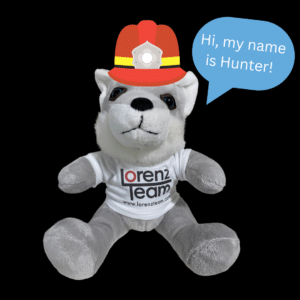 The best fire safety plan is one that prevents fires to begin with! However; we know that unexpected events happen and sometimes there are situations that are out of our control. So being prepared in the event of a fire is important. 
I'd like to start with Fire Safety tips in your home. 
Safety in the Kitchen 
Cooking is the number one cause of fires in Alberta, according to Strathcona County. Here are some helpful tips on how you can prevent a fire in your kitchen and what to do if one breaks out.
Keep anything that can catch on fire (oven mitts, towels, napkins, loose clothing etc) away from the stove when cooking

Stay in the kitchen at all times when you're cooking, and stay alert

Turn all pot and pan handles inward, so there is less of a chance bumping it when walking past (also important if you have small children)

Keep children and pets away from cooking zones

Keep an up-to-date and proper fire extinguisher in your home.

Not all fire extinguishers are the same, so be sure to have the right one and know how to use it!
What to do in the event of a stove top or appliance fire:
Never move the Pot or Pan, if possible, use a lid to smother the fire

Never pour water or flour on a grease fire, use a lid as stated above

By using a lid, this will hopefully keep it from spreading and will smother it

Use baking soda on shallow grease fires, and never turn on your fan as this could spread the fire 

Fire in the oven? Close the oven door and turn the oven off

If the fire cannot be controlled or extinguished immediately, call 9-1-1 and get out of the home 
In the event of a fire, be prepared. Have an exit plan and ensure everyone knows how to get out of the house safely and where to meet (called the muster point). For children, it's a good idea to go over the plan a few times a year, to ensure they are confident in what to do during an emergency. 
Next week we will discuss Fire Escape Plans and how to go through them with other members in your household, including children.
For more information, you can visit Strathcona County website.