Sherwood Park Against Hunger Meal Packaging Event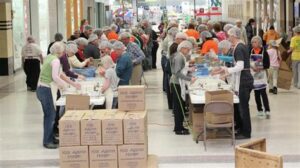 You are invited to participate in a very rewarding event, packaging meals for well-deserved people.  Together with your help, our goal is to package 75,000 meals! 
Meal packaging will take place on September 17 at the OLPH Catholic Church in the basement located at 13 Brower Drive Sherwood Park. We need approximately 180 volunteers (90 per shift) from ages 6 and up to help package the meals in an assembly line fashion. These meals are dry packed in pouches containing Vitamins, Dried Vegetables, Lentils and Rice.  Each pouch will hold six nutritional servings easily prepared on site by adding water and cooking for 10 minutes.
 This event is a fun way to spend time with friends and family for a wonderful cause. We have 2 shifts that you can choose to attend: first shift is 9:00 – 12:00pm and the second shift is 1:00 – 4:00pm. Help with clean-up will also be required from 4:00pm – 7:00pm. 
Your presence will go a long way to change someone's life. Our event in 2020 served people in need in the Edmonton Inner City Soup Kitchens, Northern Canada remote communities, as well as International Communities in need. On behalf of the Rotary Club of Sherwood Park, The OLPH Knights of Columbus, Emmanuel Foundation, Arctic Chiller, The Church of Jesus Christ of Latter Day Saints and The OLPH Society of St. Vincent de Paul THANK YOU in advance for volunteering your time for this very worthy cause!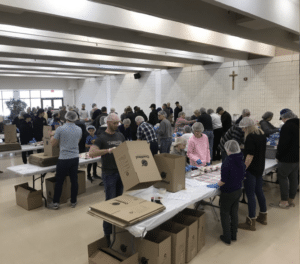 To volunteer sign up here: sherwoodparkrotary.ca.